New Build Contractors Solihull
Transforming Your Vision into Reality
We specialise in delivering high-quality new build projects to our clients.
With years of experience in the industry and a team of skilled professionals, we are confident in our ability to bring your vision to life. Let's work together to create the home or commercial space of your dreams.
Our Approach to New Build Projects
At Stoneage Properties, we take a highly personalised approach to new build projects.
We believe that every client is unique, and we strive to understand your specific needs, tastes, and budget before starting any work.
We work closely with you throughout the entire process, from initial design to final construction, to ensure that your new build meets all of your expectations.
Our team of experts is dedicated to delivering exceptional quality and attention to detail, and we are committed to making the new build process as smooth and stress-free as possible for you.
At Stoneage Properties, we understand that everyone has their own unique vision for their building project. That's why we offer custom design options to allow our clients to fully customise their new home or commercial space.
From the layout and floor plan to the finishes and fixtures, we work with you to create a space that truly reflects your personal style and meets your functional needs.
Our team of highly experienced professionals is here to help you explore all of the possibilities and bring your vision to life. When an extension or conversion isn't enough to realise your vision, it's time to consider the advantages a new build home offers.
Contact us to learn more about how we can help you create the custom new build of your dreams.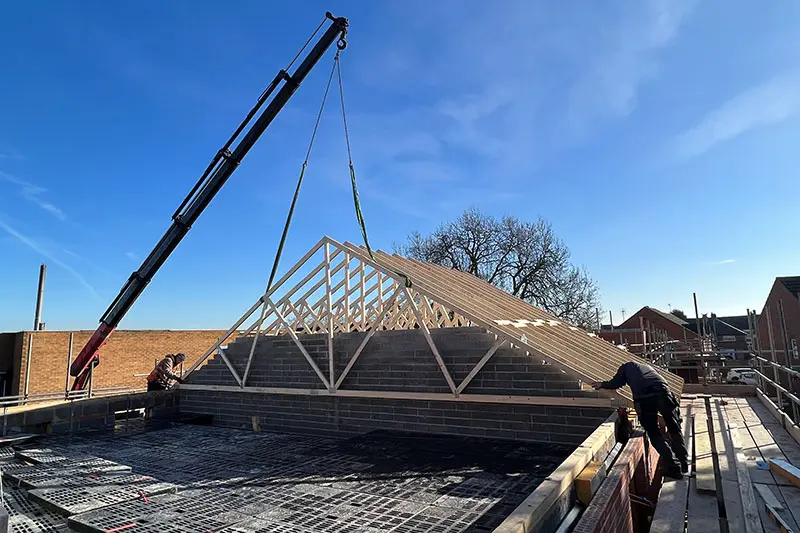 Advantages of a new build
A new build house offers a multitude of advantages to homeowners.
Up-to-date building codes and safety standards
Customisable design and layout
Wide range of finishes and features
High-quality and durable materials
No major repairs or renovations needed
Increased home value
Possibility of lower insurance and utility costs
Sustainable Building Practices
We are committed to sustainable building practices that not only benefit the environment but also benefit our clients in the long term.
Stoneage Properties strive to use materials and methods that are energy efficient, long-lasting and have a minimal impact on the planet.
By choosing to work with Stoneage Properties, you can feel good about your new build knowing that it is designed with sustainability in mind.
With over 30 years of combined building experience, Stoneage Properties have carried out a large number of building and home renovation projects across Solihull and the Midlands.
Click the images for more details.